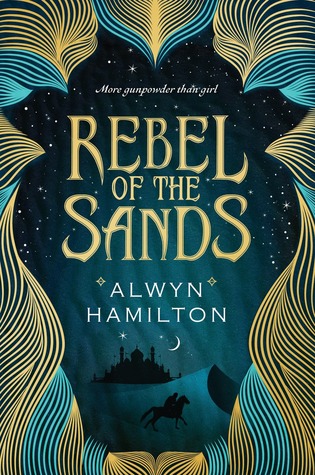 By Alwyn Hamilton
Book 1 in the Rebel of the Sands trilogy | Published 8 March 2016 | Young Adult | Fantasy
My rating: Really like it.
"Tell me that and we'll go. Right now. Save ourselves and leave this place to burn. Tell me that's how you want your story to go and we'll write it straight across the sand."
Dustwalk is an unforgiving, dead-end town. It's not the place to be poor or orphaned or female. And yet Amani Al'Hiza must call it 'home'.
Amani wants to escape and see the world she's heard about in campfire stories.
Then a foreigner with no name turns up, and with him she has the chance to run.

But the desert plains are full of dangerous magic. The Sultan's army is on the rise and Amani is soon caught at the heart of a fearless rebellion...
An epic story of swirling desert sands, love, magic and revolution.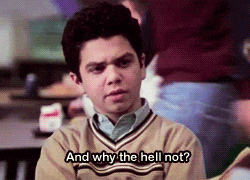 I went into Rebel of the Sands with some high expectations and came out somewhat disappointed. Don't get me wrong this book wasn't terrible in fact it was very good but it just wasn't as amazing as the hype lead me to believe.


First things first,
the plot.
I was
thoroughly entertained
by the plot of Rebel of the Sands. It was set in a modern world with some middle eastern/western elements added in, it was fast paced, captivating and there was never a dull moment but unfortunately I did have a few problems with it.
For example I found it a teensy weensy bit
predictable at times.
The ending didn't surprise me or blow me away, in fact I was expecting it.
*spoiler (highlight to view)*
Personally I felt like the ending of Rebel of the Sands was unoriginal and it felt like something that happens in every other YA book ever.
T
he plot twists,
didn't shock or surprise me.
In fact I was suspecting it once I got about two thirds of the way through.
*highlight to view spoiler*
At first I was wondering if Jin was the Rebel Prince but then I wasn't so sure, all I knew was that Jin had something do with the Rebel Prince. And what do you know? He's the Rebel Princes brother. Surprise surprise.
*end of spoiler*
When I first met Amani I immediately liked her, she was a phenomenal shooter, she was a risk taker and she was tough. But when Amani
*view spoiler*
left Tamid, her best friend, behind to die to save her own skin
*end of spoiler*
I was so mad and it was the one and only thing that I didn't like about her. But throughout the story she had some
extremely great character development
which made up for it in the end.
Jin, I loved Jin. He is definitely my favourite character so far. He was snarky, sassy and of course could kick some baddies butts. I adored the romance he had with Amani, I thought it was endearing, and it had everything I liked in a romance.
Although I did like Amani and Jin one of the overall issues I had was to do with the characters in general. I felt like I didn't really get to know them or connect with them properly. Why? To be honest I'm not exactly sure but I think it had to with the fast pace and short length of the story and because of this it felt like there wasn't really enough time to connect or get to know them as much as I would have liked to.
Overall I'm excited to see where this series goes and I'm really looking forward to reading the sequel despite some of my issues with it.
What did you think of Rebel of the Sands? Who was your favourite character? What did you think of the storyline?