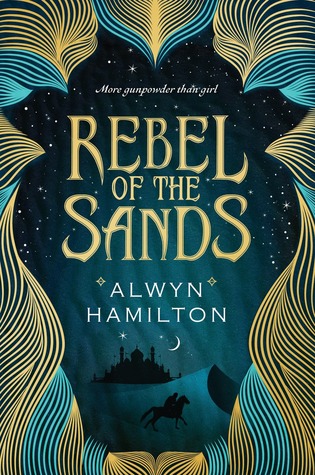 By Alwyn Hamilton
Book 1 in the Rebel of the Sands trilogy | Published 8 March 2016 | Young Adult | Fantasy
My rating: Really like it.
"Tell me that and we'll go. Right now. Save ourselves and leave this place to burn. Tell me that's how you want your story to go and we'll write it straight across the sand."
Dustwalk is an unforgiving, dead-end town. It's not the place to be poor or orphaned or female. And yet Amani Al'Hiza must call it 'home'.
Amani wants to escape and see the world she's heard about in campfire stories.
Then a foreigner with no name turns up, and with him she has the chance to run.

But the desert plains are full of dangerous magic. The Sultan's army is on the rise and Amani is soon caught at the heart of a fearless rebellion...
An epic story of swirling desert sands, love, magic and revolution.
I've been seeing Rebel of the Sands everywhere since it's release date and along with it, the many positive reviews. So of course when I saw this at my local book shop I had to go and purchase it because also THAT COVER is absolutely stunning, how could I not get it?!