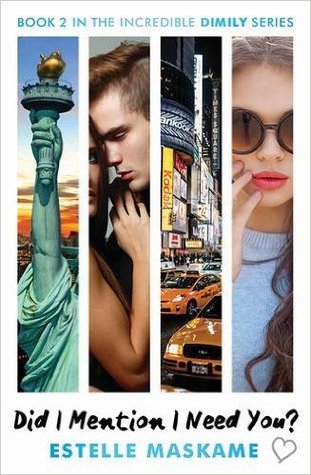 Title: Did I Mention I Need You
Series: Did I Mention I Love You #2
Author: Estelle Maskame
Genre: Young adult, contemporary
Published: 19 October 2015
Format: Paperback, 387 pages
Rating: 4/5 Stars
Source: Black & White publishing (In exchange for an honest review)
It's been a year since eighteen-year-old Eden Munro last saw Tyler Bruce: her stepbrother…and her secret love. Although they called time on their forbidden relationship for the sake of their family, Eden can't help but feel excited when Tyler invites her to join him in New York City for the summer.
Anyway, Eden is happy with her boyfriend Dean, and surely Tyler has moved on too. But as they spend a long, hot summer in the excitement of the city that never sleeps, it soon becomes obvious that they aren't over each other. But can they resist temptation?
In Did I Mention I Need You?, the second volume of Estelle Maskame's phenomenal DIMILY trilogy, Tyler and Eden must face up to their feelings and decide what to do next. Is their love strong enough to face the challenges that lie ahead?
_______________________________________
_________________________________________
My Thoughts:

I read the first book from this series, Did I Mention I Love you, a couple months back in 2015 (EEP, so weird to think 2015 is finished!) and I was seriously impressed. It was a different story line compared to other contemporary romances out there in the world of YA. This story is somewhat a guilty pleasure for me only without the guilty part, does that make sense? It's filled with gossip and drama and forbidden love and just the cuteness of falling in love/being in love. So basically it's constantly keeping you entertained, there's definitely never a bored moment!
It was so nice to get back into the world of Eden and Tyler, seeing their relationship blossom just made the butterflies start swimming again.
Unfortunately one of the things that I didn't like about this book was
(highlight to read)
*spoiler*
the cheating. The cheating itself didn't bother me so much, yes it's wrong and blah blah blah but it never prevents me from giving a book a good rating, but what I did unfortunately find to be the problem in this book was it just felt really unnecessary, it was just so completely obvious that it could of been avoided. Why? Because Eden already knew she loved Dean but was IN love with Tyler! Emphasis on the IN! So why didn't she just break up with Dean and then that whole mess at the end could of been avoided so easily in the first place!
*end of spoiler*
Snake and Em, I just love those two so freaking much! Does anyone else sort of ship those two together? Cause I totally think they would be just the cutest together and they could help each other out, and GAH I can just imagine it so clearly! *swoon*
Overall it was yet another lovely installment of the DIMILY series and I cannot recommend this series enough if you love to read about a little bit of drama and some cutesy Is that even a word? Well it's a word now ;) love stories but yet still leave you in shattered pieces by the time you've finished the book.
LASTLY, Estelle?! That ending! Are you trying to kill me?! ;)
My Rating: 4/5 Stars
Have you read any of the books from the DIMILY series? If you have, penny for your thoughts?