So I am just about to go on holiday on Saturday morning and I am flying with my dad and brother to Johannesburg and from there we are driving to a game reserve called Timbavati and I am super duper excited! But being a bookworm we all know how hard it is trying to decide which books to take along with us, so we then try to pack as many of them into our suitcases as we can without them being overweight which is close to impossible. It doesn't matter that we know we won't be reading all of the books that we take a long with us, I mean I'd take my whole bookshelf with me if I could! Okaaay so maybe not my whole bookshelf as my arms don't have any muscles on them..I actually had a dream about this the other night.....back to the point, there are a lot of struggles for bookworms that go on holiday and I am going to name a few:
1. You take more books than toiletries
I mean who needs a toothbrush? Pfft not me, it's not like I'll be kissing any boys over there, I mean I think I'll just stick with my fictional book boyfriends because as they say 'Boys in books are just so much better.' Yeahhh, I'm going to be the stereotypical sad old cat lady when I grow up ;)
2. You never know what book you might want to read while on holiday. Contemporary? Fantasy? I DON'T KNOW
If you're like me and you normally read books according to you're mood then you know the struggle, you can never follow a set TBR know matter how hard you try! So how are you meant to follow one when you're on holiday?! HUH?! Guess I'll just have to take all the genre's...TO MANY CHOICES!!!
3. You're constantly being interrupted
"Kristin, stop reading! Come on, we're going!" Now don't get me wrong here I like doing stuff and going out...sometimes, kidding. I do BUT I like soaking up the sun and reading just that much more, that's more my kind of holiday ;) (Although I am super excited to go see all the pretty wild animals in their natural habitat)
4. Book covers get wrecked easily
I always find when I am packing my bags for a holiday, my books get so wrecked on the way there because they're constantly getting bounced around and are toppling all over each other, it's such a nightmare! I mean, MY POOR BABIES.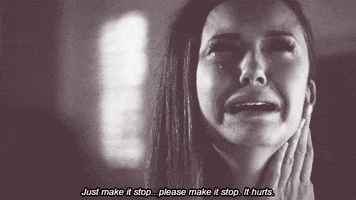 5. The animals could eat your books! Pfft, never mind the humans.
Since I'm going and venturing into the wilderness, the land of dirt, dusty mountains and some seriously BIG animals that if they decided to, could gobble you up in one gulp. Okayyyy so they probably won't eat you but I mean they're BIG AND HAVE SHARP TEETH, I mean if that doesn't spell scary I don't know what does...
I mean what if they eat my books?! Never mind the people ;)
What are some of your bookish struggles on holiday? TELL ME.