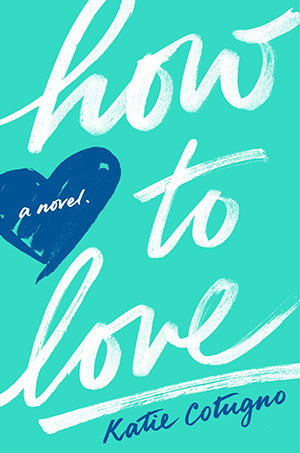 Title: Hot To Love
Series: None
Author: Katie Cotugno
Genre: YA contemporary
Publication: 1 October 2013
Format: Hardcover, 389 pages
Rating: 5/5 Stars
Before:
Reena Montero has loved Sawyer LeGrande for as long as she can remember: as natural as breathing, as endless as time. But he's never seemed to notice that Reena even exists until one day, impossibly, he does. Reena and Sawyer fall in messy, complicated love. But then Sawyer disappears from their humid Florida town without a word, leaving a devastated—and pregnant—Reena behind.
After:
Almost three years have passed, and there's a new love in Reena's life: her daughter, Hannah. Reena's gotten used to being without Sawyer, and she's finally getting the hang of this strange, unexpected life. But just as swiftly and suddenly as he disappeared, Sawyer turns up again. Reena doesn't want anything to do with him, though she'd be lying if she said Sawyer's being back wasn't stirring something in her. After everything that's happened, can Reena really let herself love Sawyer LeGrande again?
_________________________________________________________________
Reaction upon finishing:
All I can say is that there was a whole lot of crazy celebratory dance moves going on after I finished this book.
My thoughts:
This is a new favourite. Like it's right up there with My Life Next Door and all the Cassandra Clare books that I love. I honestly cannot tell you enough how much I loved and adored this book. I just have no words because it was just that epic for me.
I dog-eared the hell out of this book, I know, I know don't hate me but yes, I did dog-ear the book to mark all my favourite pages and beautiful quotes. So please don't kill me, you see the thing is I ran out of sticky notes to mark them and well, there was so many beautiful and heartbreaking moments that I though were so special that they had to be marked and remembered for when I re-read this book, which I can say with out a doubt I will be doing countless times because it was really just that good.
The characters in this book were so real, and so relatable that you just want them to pop out of the pages so that they can become your best friends. Sawyer and Reena have such a beautiful, messy and tangled special kind of romance in this book that I can't even bring myself to wanting Sawyer leGrande to be mine because they were just do beautiful together, okay maybe I do want Sawyer to be my boyfriend just a little. Okay maybe like a lot.
Reena, I really loved and respected the way she handled everything that happened through out this book, not only was it mature but it was also really real, and I think that's what I loved about this book the most. It was so real that I felt like this book was teaching me a life lesson of sorts. Okay that sounds incredibly corny, I know, but I don't know how else to put it. *facepalm* I also really related to her a lot, like a lot a lot. It's just the way she thinks and all her thoughts and actions are exactly the same as something I would do. (besides her getting pregnant, I haven't done that. Yet..KIDDING)
"I wasn't unpopular, exactly. I was just . . . unequipped."
Sawyer, he was just so perfect. If you've read this book you'd know that Sawyer was far from perfect but to me he just was and all I'm saying is that my future boyfriends have some very big shoes to fill.
"I loved ... the honest soul he kept hidden safe under all his bravado, and I loved how I was still, every day, learning him."
I loved the family aspects of this book, and all the relationships between Reena and her family, the good and the bad but what I loved the most was seeing her interact with her daughter, Hannah it was just so cute and lovely and just, FEELS.
Overall the pages and the words in this book were beautiful and wonderful and I really recommend you read this if you haven't because I just love it so much and you have to read it no matter what! It was a beautiful story of first love and consequences. The romance captures you with it's tangled and messily-beautiful feel. (yes I realize that 'messily beautiful' isn't exactly the best English) BUT GO READ THIS BOOK RIGHT NOW.
Favourite quotes:
"I think of how it felt to lose him, slow and painful and confusing, and how it felt to wonder if I'd ever really had him at all."
"Above all, love each other deeply, because love covers over a multitude of sins."
"I couldn't figure out how you could go from feeling so close to a person one minute to not being sure if you even knew them the next."
Why I rated it this:
+The story captured you from the start and there was never a boring moment
+Beautiful characters
+Just beautiful EVERYTHING.
Have you read How To Love? What did you think? What's your favourite contemporary read?