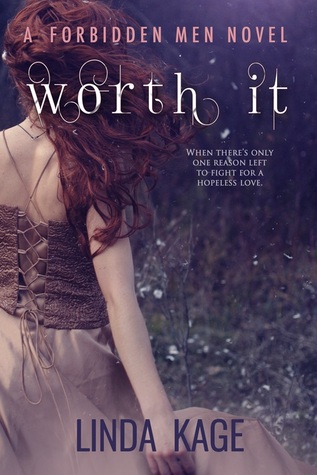 Title: Worth It
Series: Forbidden Men #6
Author: Linda Kage
Genre: New adult, romance
Published: 25 August 2015
Format: ebook
Rating: 4.5/5 Stars
Source: Author, in exchange for an honest review.
I fell in love once.




It was amazing. She was amazing. Life was amazing.




I lived for each time I could see her, and nothing else mattered, not that our families were enemies, our time together was forbidden, or we had to meet in secret.




Our love could conquer all.




Until it didn't.




So I was ripped away from the love of my life and shoved into hell, forced to continue without her.




It shattered me, broke the best parts of me, left me permanently damaged.

Or so I thought.




Years later, I swear history's trying to repeat itself because she's back in my life, and I'm just as drawn to her as I was before. But I'm older and wiser now, and I know she should stay away from a worthless piece of ex-con like me.




So, I will not let her in. I absolutely refuse to hurt her. I will keep her away.




Then again, sometimes risking your greatest fear to get to a smile makes everything worth it, and besides, I'm not sure I can resist her, anyway.




This is the story of how Felicity Bainbridge changed my life forever, starting one summer day long ago after I was forced to change a dirty diaper...




--Knox Parker
______________________________________________________
Reaction upon finishing:
Ahhh, I need the next one right this minute. GIMME GIMME.
My thoughts:
This is just further proof that the Forbidden Men series is one of the best new adult romance series out there. *dreamy sigh*
Every time Linda writes a romance between two characters, the chemistry between them is so thick and addicting, and HOT. But what I love most about it is it's the kind of romance that you can only dream about. She balances the seriousness and the humorous banter so well, there's never to much and there's never to little.
In this book Knox and Felicity have a 'before' and 'after' story and it switches between them in each chapter, normally when I read books with this kind of style of narrative I always prefer one over the other and the one that I don't love as much as the other almost becomes a bit of bore, but with this book it wasn't like that all, I loved both of the 'times' equally and I was never bored like I normally am. I can only think of one other book where I wasn't bored and that is
How To Love
by Katie Cotugno, which I LOVED.
What was so great about the before and after chapters though was being able to see the contrast and differences between the 'before' and 'after' characters, does that make sense? You really saw how each main character had developed during the different 'times.'
One of the things I love most about this series though is seeing how everyone's stories tie in with each other, it leaves you with the feeling of 'OMG, HOW DID I NOT SEE THAT?!' That was basically me during the whole duration of the ending *facepalm*
Linda's books have a way of bringing so much emotion within you, be it fangirling, sadness or excitement, it's always there! I definitely recommend you go read this book RIGHT FREAKING NOW BECAUSE IT IS AMAZING. Although I do suggest you read the books in order because it definitely gives you an advantage and it will make the experience of reading this book just that much more better. But it can be read as a standalone.
My rating:
Why I rated it this:
+ While reading this book I fell in love with the characters, like SO SO SO MUCH.
+ The story line keeps you on your toes the whole time
+ Makes you want to read the next book straight away! (leaving you impatient for the next book;) )
Oh, and by the way, Knox is MINE
Have you read any of the other books from this series? Are you planning to? Let me know :)